MEDITECH Expanse Data Migration
Program Management
Assists governance body in understanding downstream
impacts of data conversion decisions and keeps the project
moving forward.
Manages and set expectations with conversion group
and collaborates with Leadership team to ensure
communication occurs between multiple stakeholders.
Project Management
Oversee day to day project activities as Conversion Team
Lead responsible for keeping the conversion project on
track, maintaining scope, and managing key deliverables/
timelines.
Supported Discrete Data Elements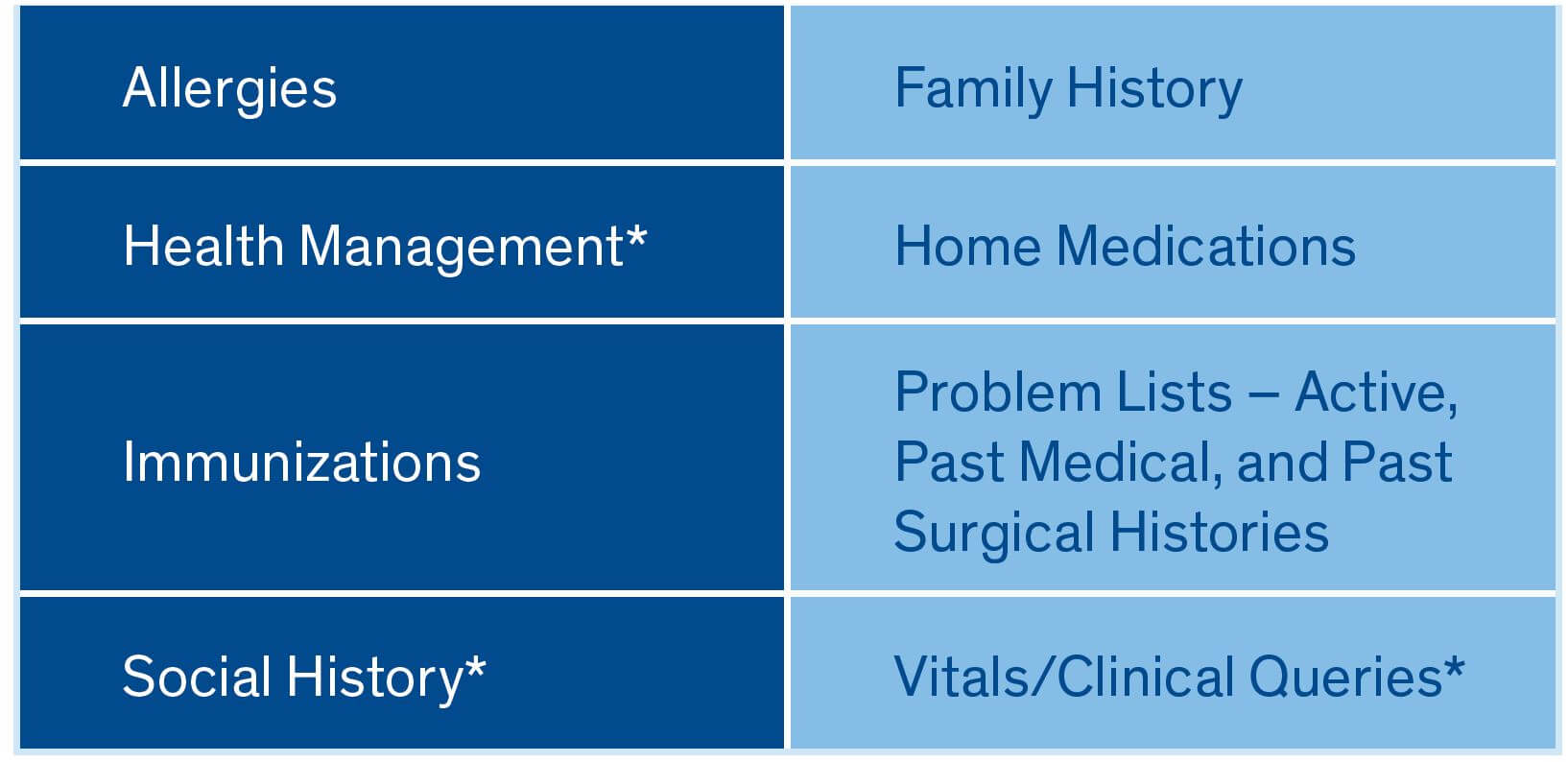 *Limited to commonly used and discretely documented items in Ambulatory EMR
Additional Benefits
Top Off Loads
Additional new data loads provided to support data gaps between initial data delivery and Go Live dates.
De-duplication
Ability to combine and deliver certain MEDITECH and Ambulatory data sets to reduce duplication between documented clinical elements for reach patient.
Project Based Data Migration Service Offerings
MPI Generation and Delivery
Critical path activity supporting multiple Meditech MPI
specifications to migrate patient and historical patient
accounts. We utilize our tested patient matching
methodology to match one or more legacy EMRs to existing
MT patients for continuity between multiple systems.
Support migrations to MT systems with multiple facilities
and multiple HIM sites.
Scanning and Archive Migration
Support the converting of in-scope legacy EMR Scans and
Notes to MEDITECH Scanned/Archived Image conversion
specification delivery and loading into the MEDITECH
eChart.
Discrete Data Migration
Perform the evaluation, extraction and delivery of the
in-scope clinical data elements from the legacy EMR
systems. Apply transformations to the data using GalenETL
so that it is delivered in the proper flat file formats with
the appropriate data mappings. Galen supports Top Off
Loads that allow your recently documented data to be in
MEDITECH at Go Live.
Mapping
Focuses on achieving the highest percentage of legacy EMR
to MT dictionary mapping possible so that the migrated data
will display correctly in MEDITECH Web Ambulatory.
Validation and Testing
Coordination, oversight, and support all rounds of testing
and validation. This includes creating test scripts and user
instructions, managing the issue lists, coordinating with
Project Managers and technical resources on data loads
and issue resolution. Flexible staffing levels available.
*
*
*
*
*
*
AlaskaAlabamaArkansasArizonaCaliforniaColoradoConnecticutDistrict of ColumbiaDelawareFloridaGeorgiaHawaiiIowaIdahoIllinoisIndianaKansasKentuckyLouisianaMassachusettsMarylandMaineMichiganMinnesotaMissouriMississippiMontanaNorth CarolinaNorth DakotaNebraskaNew HampshireNew JerseyNew MexicoNevadaNew YorkOhioOklahomaOregonPennsylvaniaPuerto RicoRhode IslandSouth CarolinaSouth DakotaTennesseeTexasUtahVirginiaVermontWashingtonWisconsinWest VirginiaWyoming