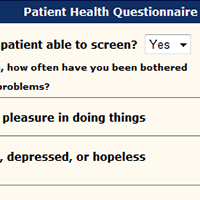 PHQ Depression Screening
The PHQ family of questionnaires includes PHQ-A for adolescents, PHQ 2 and PHQ 9 also available for adolescents and adults. These questionnaire are designed with Meaningful Use 2 capabilities, and assist with evaluating a patient's mental health.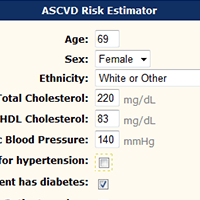 ASCVD Risk
An integrated, risk score calculator designed to calculate the life time and 10 year score of heart disease.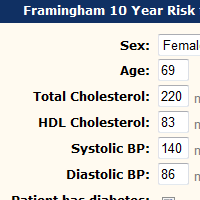 Framingham Risk for Heart Attack
An integrated, risk score calculator designed to calculate a 10 year risk score for Congestive Heart Failure.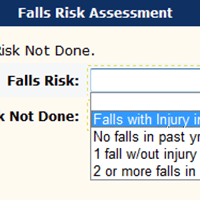 Falls Risk Assessment
A falls screening questionnaire designed to evaluate the number of falls a patient experienced. This calculator is designed with Meaningful Use 2 capabilities.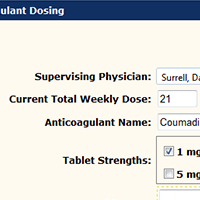 Anticoagulation Tracking Module
A comprehensive workflow module that tracks patients' anticoagulant treatment and INR values over time.
Can't the computer do that for me???  Yes eCalcs can.  When we installed Galen eCalcs, our clinicians deleted their bookmarked calculators and now stay in TouchWorks where patient data is auto-populated and calculation is just a click away.
The Galen eCalcs are very valuable tools that facilitate the entry of key clinical data elements, as well as their retrieval for display in flow sheets or inclusion in analytic reports. This is particularly useful for clinical quality measures that must be available to providers at the point of care and also must be reported to CMS or other agencies or payers.
What is the typical timeline for implementation?
Implementations are client driven. Galen works with your resources to determine the best approach and timeline for you. Typically, it will take 4 - 6 weeks to go live with the initial set of calculators. For clients interested in performing a "big bang" go-live, the time frame is 8 - 12 weeks.
Can we configure calculators?
Galen delivers calculators' functionality along with the capability to pull problems, vital signs and results into the calculators from the patient's chart. Calculators also come with a list of preferences allowing you to customize functionality to match your practices workflows.
Who has access to the calculators?
Everyone at your organization can have access to your calculators. The eCalcs tab can be restricted to specific users if desired.
Can we send requests to build new calculators?
Yes. New calculator requests are always welcome. New calculators are released during quarterly updates.
Does Galen provide support post go-live?
Galen continues to support eCalcs post go-live.
How are scores documented?
Scores are documented as Results. Results may be shown or graphed in a flow sheet and auto-cited into a Note.
Is Citrix supported?
Yes, eCalcs fully supports Citrix.
Does eCalcs have an impact on the EHR?
There is no impact on the EHR in terms of limiting performance or other negative consequences. Loading the eCalcs page is lightweight, requiring fewer web page and database calls than most screens in the EHR.