Operations can range from project team structure to ROI assessments. Galen has experience assessing these needs and will assist you in determining your current position relative to success criteria.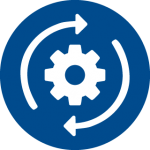 Program Management
Change management

Leadership

Committee development
Project Management
Implementation

Resource Management

Project plan design and execution
Application Marketing
Organizational awareness

Patient awareness

Community awareness
Project Governance
Staffing Models

Policies and procedures

Issue Management
Utilization Testing
Workflow testing

Regression testing

Data integrity testing
Go-Live Support
The Galen go-live support team is focused on providing elbow-to-elbow support for physicians, other care providers, and non-clinical staff during your organization's go-live. As part of go-live support, we ensure functional mentoring to assist with seamless transitioning of consulting duties to your organization's staff.
Tier 2 Support
Tier 2 support focuses on assisting with issues that local administrators cannot resolve and providing advice for design and configuration. This requires dedicated resources on the client side to act as a liaison with the end-users. We assist the client liaison, and handle basic issues or questions.
Upgrades
Galen's team will design the future version of your clinical application and implement new functionality or modules. We provide supplemental help for all build activities, including full outsourcing of the effort, providing training and materials, conducting the upgrade and interface communication with environments and go-live support.