Health Information Exchange
Exchanging data between health information systems can be both challenging and daunting, with a litany of standards to navigate, vendor-proprietary APIs to consider and basic connectivity. Galen's knowledge of standards, including HL7, IHE, DICOM, NCPDP, ASC X12, allows us to offer a full spectrum of services to help organizations recognize the benefits of integrating systems and applications.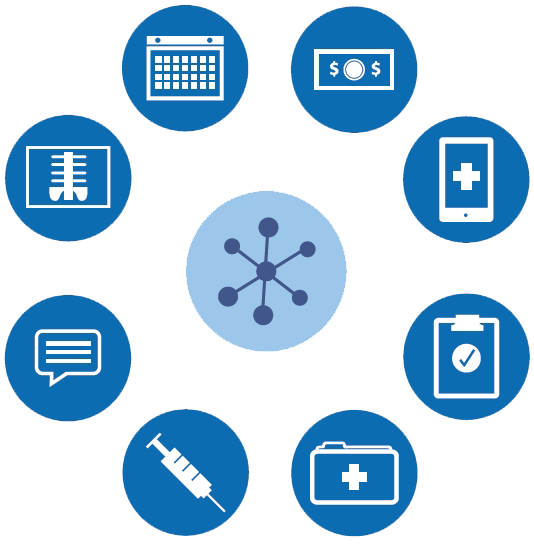 HIE Integration & Analytics
Our team of seasoned analysts has broad expertise and extensive experience assisting organizations in connecting disparate health information systems. Galen delivers HIE services and solutions that produce business process rules aned data transformation, facilitate administrative and clinical data exchange between EHRs and devices, as well as external and ancillary systems.
Application and Data Integration

Clinical and Financial Data Exchange

Clinical Data Aggregation

ETL (Extract, Transform, Load)
Lab and Pharmacy Connectivity

Interface Engine Migration
Integration Best Practices

Healthcare Analytics and Data Mining
Enterprise Integration Expertise

Ambulatory EMR interface implementation is arguably the largest task in an HIE implementation as vendors typically present a multi-layered approach, including specification gathering, establishment of connectivity, integration with proprietary APIs, HIPAA compliance and interoperability authorization. The team at Galen leverages its experience with a litany of EMR vendor integration projects, working directly with the ambulatory EMR to exchange the all-important clinical data with the HIE.

Galen is a proud partner of Orion Health, one of the world's leading providers of HIE and healthcare integration solutions. Orion Health HIE provides the technical background for HIEs & ACOs across the country. Orion Health Rhapsody® Integration Engine provides health reporting for nearly all state and local health departments.

Galen is a proud partner of InterSystems, an international healthcare technology solution provider. Galen has vast expertise in the InterSystems product line including:
Caché: High-performing, massively-scalable database that underpins many of the world's leading clinical solutions

Ensemble: Integration platform, which enables real-time exchange of electronic messages between disparate systems

HealthShare: Solution for addressing the ever-changing needs of the HIE market
[wp-rss-aggregator source='10501′ limit='5′]
[wp-rss-aggregator source='10511′ limit='4′]
*
*
*
*
*
*
Alaska
Alabama
Arkansas
Arizona
California
Colorado
Connecticut
District of Columbia
Delaware
Florida
Georgia
Hawaii
Iowa
Idaho
Illinois
Indiana
Kansas
Kentucky
Louisiana
Massachusetts
Maryland
Maine
Michigan
Minnesota
Missouri
Mississippi
Montana
North Carolina
North Dakota
Nebraska
New Hampshire
New Jersey
New Mexico
Nevada
New York
Ohio
Oklahoma
Oregon
Pennsylvania
Puerto Rico
Rhode Island
South Carolina
South Dakota
Tennessee
Texas
Utah
Virginia
Vermont
Washington
Wisconsin
West Virginia
Wyoming